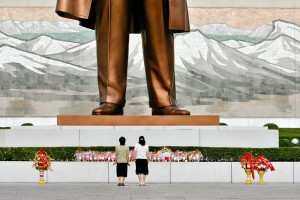 North Korea's official press yesterday warned it will soon launch "unprecedented peculiar attacks" against its enemies in the South. The nature of this threat appears to distinguish it from the nuclear test that may or may not happen in the wake of the North's failed missile launch earlier this month.
Could this foretell of another incident like the attack on the Republic of Korea Navy (ROKN) corvette Cheonan (PCC-772) in March 2010? The Cheonan was sunk 75 miles away from joint U.S. Navy-ROKN anti-submarine warfare maneuvers as part of the annual exercise Foal Eagle. Earlier in the month in response to the upcoming American/South Korea exercise the North's news agency, KCNA, quoted its military high command as saying "The units of the three services of the KPA (Korean People's Army) should keep themselves fully ready to go into action in order to blow up the citadel of aggressors once the order is issued." Poetic language as always.
While analysts can be forgiven for ignoring these earlier warning as typical North Korean background noise, this week's words are interesting in both their language and list of specific "targets" in addition to the South's President Lee Myung-Bak, and for promising non-conditional action:  
"In the meantime, paid conservative media which had long been reduced to a waiting maid of the group of traitors, worked with blood-shot eyes to build up public opinion in favor of the rats' group.

Involved in the campaign were Dong-A Ilbo situated in the downtown Seoul as well as KBS, MBC, YTN and other media institutions…

The special actions of our revolutionary armed forces will start soon to meet the reckless challenge of the group of traitors…

Their targets are the Lee Myung Bak group of traitors, the arch criminals, and the group of rat-like elements including conservative media destroying the mainstay of the fair public opinion.

Once the above-said special actions kick off, they will reduce all the rat-like groups and the bases for provocations to ashes in three or four minutes, in much shorter time, by unprecedented peculiar means and methods of our own style."
Does this mean that the ROKN can breathe easy? I'd say yes, that as analysts have suggested we're more likely to see the North carry out hacking, and perhaps even terrorist acts. Plus, the North hasn't exactly been known to keep its promises. But then again it's North Korea, so who knows?
Photos: AP