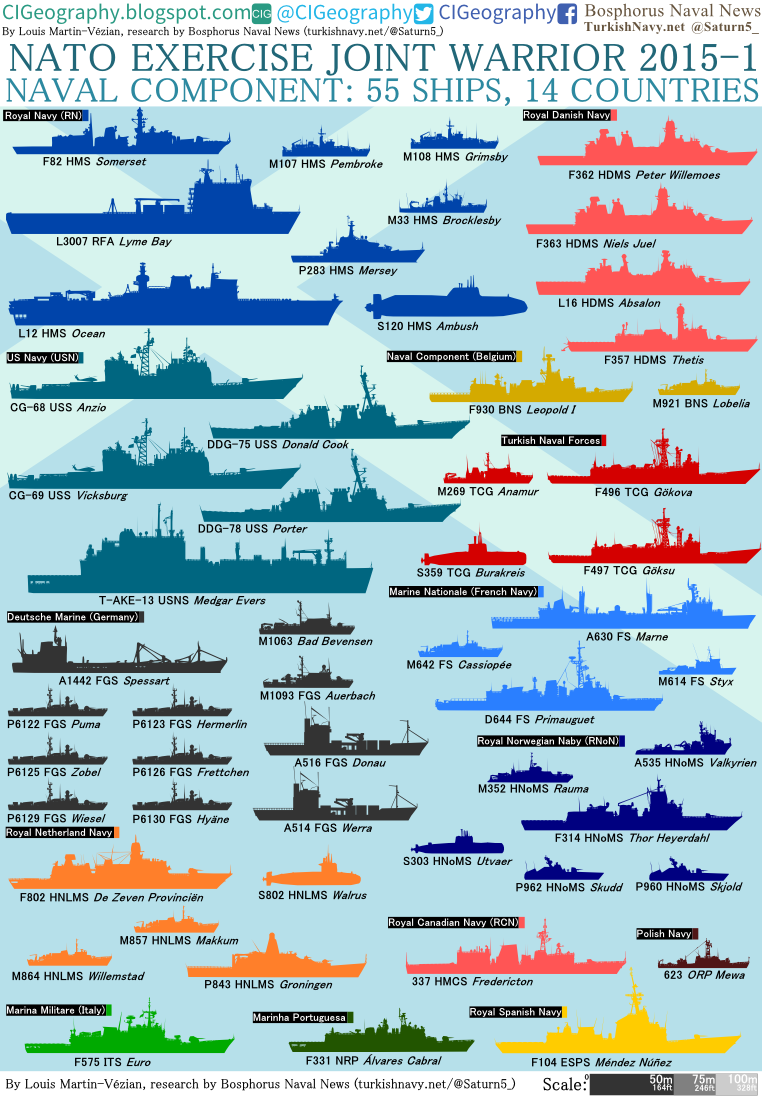 Joint Warrior is the twice-yearly UK-led NATO exercise in Scotland involving both sea, air and land assets.
Joint Warrior 15-1 has gathered 55 ships, a similar number of planes, and 14,000 personnel from 14 countries. It will run from 11 to 24 April. The maritime part of the exercise will focus on mine warfare and fast attack craft swarming-attacks.2121
Two standing NATO mine counter-measures groups (SNMCMG1, SNMCMG2), including mine countermeasures vessels (MCMV) from 8 countries, arrived in Faslane (30km from Glasgow) earlier last week.
German and Norwegian fast attack craft (FAC) were deployed as well: 6 Gepard-class fast attack craft of the German navy (P6122 Puma, P6123 Hermerlin, P6125 Zobel, P6126 Frettchen, P6129 Wiesel, P6130 Hyäne) and the two Skjold-class stealth corvettes of the Royal Norwegian Navy. The German Gepard-class is an evolution of the Albatros-class, modernized with the addition of a GDC-RAM launcher. The Norwegian P960 Skjold and P962 Skudd are capable of reaching 60 knots and carrying 8 NSM anti-ship missiles.
This edition of Joint Warrior is the largest to date, and could be compared to RIMPAC, although RIMPAC2014 gathered 55 ships, 200 aircraft and 25.000 personnel. Thus, JW151 is 140 aircraft and 10,000 personnel smaller than RIMPAC2014.
This extraordinary participation in a NATO exercise may come in reaction to Russia's increasingly aggressive posture towards Europe since March 2014. Over both Europe and Japan, Russian strategic bomber flights are becoming more and more frequent.
Louis Martin-Vézian is the co-president of the French chapter at CIMSEC.org, and the founder of CIGeography, where he posts his maps and infographics on various security and defense topics. He is currently studying Geography and Political Science in Lyon, France.