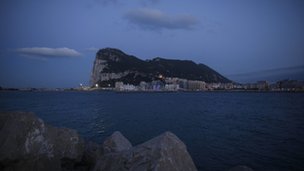 Just a little news item from the BBC about the latest in a series of armed stand-offs in Gibraltar, this time resulting in a "minor collision:"
The Ministry of Defence has accused a Guardia Civil patrol boat of "manoeuvring in a provocative and dangerous manner in the vicinity of Royal Navy vessels".
No shots were fired in the incident.
But there was a minor collision between the Spanish vessel and a Gibraltar Defence Police boat.
The incident happened on Wednesday while the Gibraltar Squadron was providing force protection to a Royal Navy Fleet Auxiliary tanker in Gibraltarian territorial waters.
According to the Gibraltar Chronicle, the Spanish patrol boat Rio Tormes sailed too close to a Royal Navy vessel after breaching a security cordon off the British territory.
Armed crew members on HMS Scimitar ordered the Spanish vessel to leave the area but the Guardia Civil vessel reportedly ignored the warning, resulting in a stand-off.