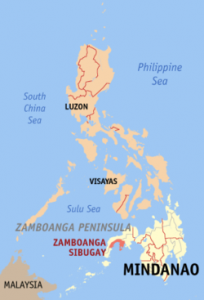 A naval engagement off the southern port city Zamboanga, Philippines, is once again showing the utility of maritime transport for non-state actors.
A navy patrol encountered and fought with "about 100 suspected Moro National Liberation Front (MNLF) rebels, who were on board a large motorboat and eight smaller vessels off Rio Hondo, a crowded Muslim community in the port city of Zamboanga, military spokesman Lt. Col. Ramon Zagala said." The clash left 1 member of the navy special forces dead and 6 injured, while at least a further 5 died as the fight moved inland. Estimates of hostages taken by the MNLF number between 20 and 300 hundred.
As reported by the AP: "The 11,000-strong Moro Islamic Liberation Front has engaged the Philippine government in Malaysian-brokered peace talks, which have progressed recently toward a new Muslim autonomy deal. But a Moro National Liberation Front guerrilla faction led by Nur Misuari felt left out and has issued new threats."
In February, followers of the nominal 'Sultan of Sulu' also took to the sea for an invasion of Malaysian Borneo in what was seen as an attempt to gain a stronger bargaining position in the peace talks.