Alleged U.S. Navy Involvement in the 1973 Chile Coup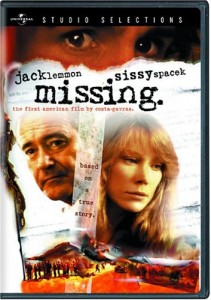 An old mystery has come back into the limelight following the recent revelation that a retired U.S. Navy officer, accused of being complicit in the murder of two U.S. citizens in the immediate aftermath of Augusto Pinochet's 1973 coup in Chile, had died in Chile months ago, ironically at the same time as Chilean authorities were seeking his extradition from the U.S.
Retired Captain Ray Davis had been the Commander of the U.S. Military Group in Chile at the time of the coup.  He "was thought to be living in Florida and Chile's Supreme Court had approved his extradition request last October," however, he apparently had actually been living in Santiago until his death in April.
Davis had long been accused of being  involved in the execution of Americans Charles Horman and Frank Teruggi by the forces of Pinochet's junta.  The story of Horman's death and the quest of his wife and father for justice was chronicled first in a book by Thomas Hauser and the 1982 film Missing, directed by Greek filmaker Costa-Gavras and starring Jack Lemmon.  The film implies that Horman and Teruggi had stumbled onto a substantial U.S. military presence in Chile on the eve of and during the revolt, with a fictional portrayal of a Davis-like character as the main American who stood by while they were killed by Chilean authorities, presumably because they knew too much about U.S. involvement in the coup.
Horman's wife claims that during a ride that Davis had given to Horman in the days after the coup, Davis determined Horman possessed information that "would have risked derailing the recognition of Chile's junta by the US government," transforming him "from an American citizen who was entitled to protection, to a vulnerable and disposable threat to powerful forces."
The Chilean judge seeking Davis' extradition claimed that Horman had been identified as a "subversive" by "U.S. agents," directly leading to his execution.  John Dinges, whose book The Condor Years detailed how Chile organized South American-wide repression in the 1970s, argues that it was likely that the U.S. did not just "tacitly tolerate" Horman's killing, but rather that Ray Davis "produced the information that led to his death and when Chileans consulted about it, he decided not to oppose it."  Davis' supporters and family members have claimed instead that he was simply "a liaison between the U.S. and Chilean militaries" who had nothing to hide.
The National Security Archive has collected several declassified documents related to the Horman/Teruggi murders.  In possibly the most damning piece of correspondence, State Department officials in 1976 admitted that there was "some circumstantial evidence to suggest" that
"U.S. intelligence may have played an unfortunate part in Horman's death.  At best, it was limited to providing or confirming information that helped motivate his murder by the GOC.  At worst, U.S. intelligence was aware the GOC saw Horman in a rather serious light and U.S. officials did nothing to discourage the logical outcome of GOC paranoia."
Perhaps the most bizarre twist to this story is that while authorities in Chile were attempting to bring Davis back there in order to face trial after his 2011 indictment, he was apparently "right under their noses all along, living in a nursing home in an upscale part of the Chilean capital."  The U.S. embassy there claims that they "were unaware that Mr. Davis was living in Santiago until early this past May, when they were informed of his death a few days before."  No press reports about Davis' death so far have identified why he was living in Chile while simultaneously trying to avoid trial there.  Horman's wife is asking for proof of Davis' death, not yet convinced that the Ray Davis who died in Chile earlier this year was the one she believes caused the death of her husband.
Lieutenant Commander Mark Munson is a Naval Intelligence officer currently serving on the OPNAV staff. He has previously served at Naval Special Warfare Group FOUR, the Office of Naval Intelligence, and onboard USS ESSEX (LHD 2).  The views expressed are solely those of the author and do not reflect the official viewpoints or policies of the Department of Defense or the US Government.