Snodgrass, Guy. Holding the Line: Inside Trump's Pentagon With Secretary Mattis. Sentinel, 2019, 352 pp. hardcover/$27.00.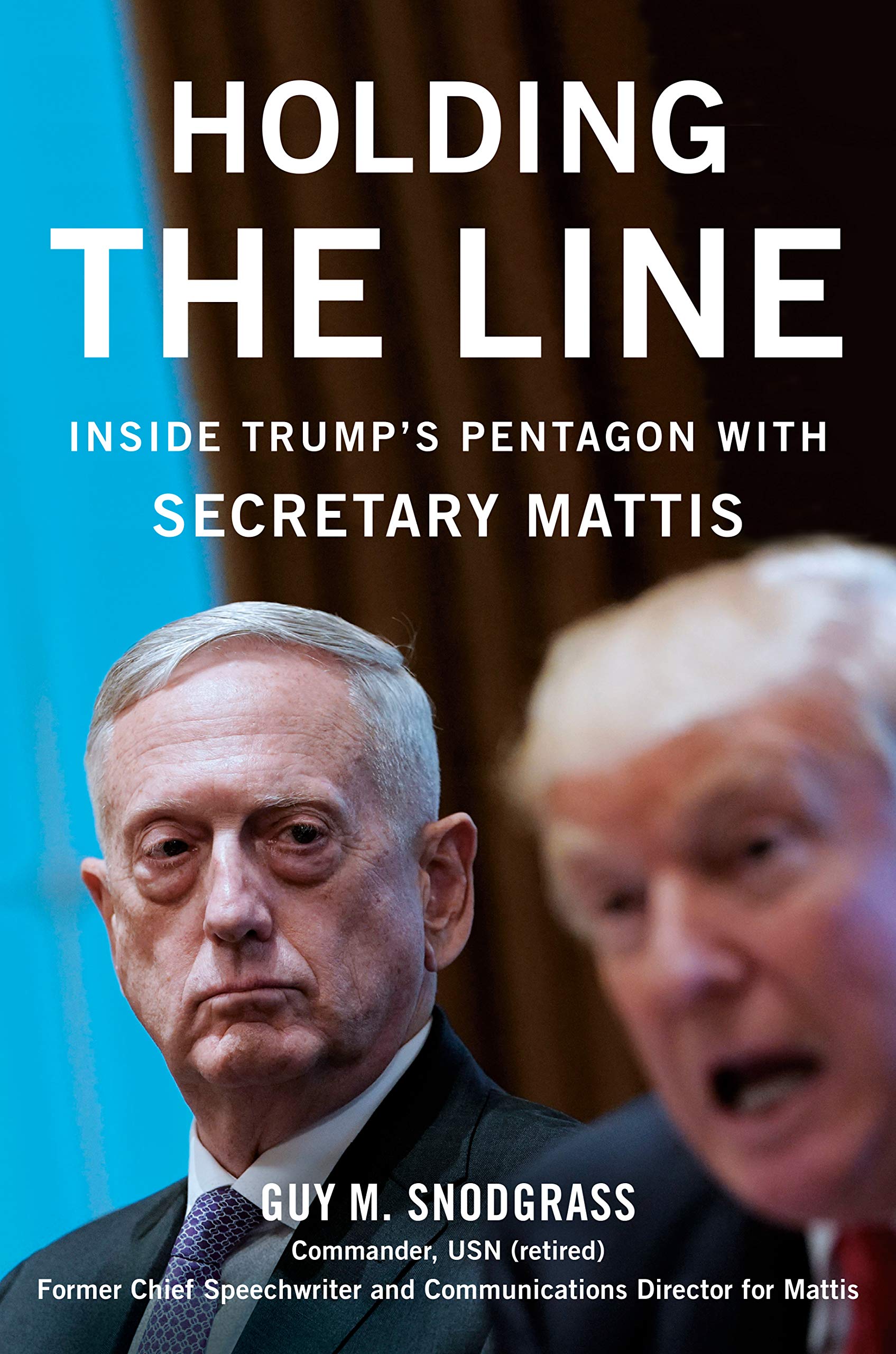 By LT Daniel Stefanus, USN
Secretary Jim Mattis is one of America's greatest living military leaders, and this candid account by CDR (ret.) Guy Snodgrass of Mattis' tenure does nothing to challenge that. His combat record and rise from the enlisted reserve ranks, to four-star general, to Secretary of Defense is unlike that of any other American of the post-Cold War era. And beyond his service, his National Defense Strategy and relentless work to restore funding and readiness to the United States military will remain historic achievements for our armed forces during the Trump Administration. His example has rightly inspired millions of servicemembers.
CDR Snodgrass' book supports all of this, revering Secretary Mattis for his strengths while allowing a peek behind the curtain on some of the key moments in the Secretary's time leading the Department of Defense. This book will be picked up by the wider press for its insights into the Trump Administration's internal dynamics, Secretary Mattis' attempts to keep the military calm and focused on restoring readiness and lethality, and the difficult tight-rope Secretary Mattis had to walk in comforting our partners and buttressing our international system of alliances. However, for the discerning military officer or national security professional, this book is a graduate course in understanding the dynamics and processes at the highest level of the U.S. military.
This book cannot be reviewed without addressing the controversy surrounding it and its two protagonists: Secretary Mattis and the author. Mattis issued the following statement through an aide regarding the book:
"General Mattis hasn't read the book and doesn't intend to… [CDR Snodgrass'] choice to write a book reveals an absence of character… surreptitiously taking notes without authorization for a self-promoting personal project is a clear violation of that trust… [CDR Snodgrass] may receive a few brief moments of attention for this book. But those moments will be greatly outweighed by the fact that to get them, he surrendered his honor."
This statement is puzzling given that if Secretary Mattis hasn't read it, then any criticism after that statement is instinctive rather than facts-based. The Secretary believes the book is personally aggrandizing and that it is a violation of honor and morality, but none of that is borne out in the text. I was surprised, frankly, at how pro-Mattis CDR Snodgrass is throughout the book given how his exit from Mattis' staff went. I walked away from Holding the Line with my opinion of Secretary Mattis still quite high and with a reaffirmed faith in the Secretary's commitment to the mission, the United States, and the security of Americans.
This book is no takedown. It is a candid account of what it was like inside the Office of the Secretary of Defense for most of Secretary Mattis' tenure, and the victories and the defeats that transpired.
From Mattis' recent autobiography Call Sign Chaos, "Leaders at all ranks, but especially at high ranks, must keep in their inner circle people who will unhesitatingly point out when a leader's personal behavior or decisions are not appropriate." CDR Snodgrass may have aired moments of failure or embarrassment for the Secretary, but that is for the good of the nation. This book allows citizens to better understand the experiences of the current administration, the president's thinking on national security matters, and the reasons for major shifts in national security policy since the administration took office.  
CDR Snodgrass is also not your average observer. He was hand-picked to join Mattis' staff, accepting the offer and giving up his golden path to aviation major command and time to recover with his family after a decade of operations and deployments in order to serve the Secretary. CDR Snodgrass had previously been speechwriter for Chief of Naval Operations Admiral Greenert, was asked to help write the 2014 Quadrennial Defense Review, has a Master's degree in Nuclear Engineering from MIT, was the valedictorian of his Naval War College class, and has flown thousands of hours as a Super Hornet pilot – to include command of a squadron of Hornets in Japan where him and his squadron won a Battle "E" award as one of the top units in the Navy. He also won awards as the 2008 Strike Fighter Wing Pacific Pilot of the Year, 2009 Strike Fighter Wing Pacific Tactical Aviator of the Year, 2010 Naval Air Forces Pacific Michael G. Hoff Attack Aviator of the Year, and for the peer-awarded 2010 Naval Air Forces Pacific Navy and Marine Corps Leadership Award.
The book deftly toes the line between personal account, Secretary Mattis as a leader, and the national security events of our time. Interesting insights from the book include the dominance of military personnel over civilians on the Secretary's team, and that those military personnel were primarily naval officers, with few Army or Air Force officers holding sway. Scenes of Mattis kicking out the embassy team in Norway during a brief, denigrating the press, torpedoing the author's attempt to transfer to elsewhere in the DoD after 18 months, and pushing his staff to work with little sleep or time for their families paint a portrait of a less-than-optimal working environment, one that can be confirmed by other former members of the team.
However, the book does not cast the Secretary in a negative light. It emphases his brilliance, tireless effort, commitment to U.S. security and values, endeavors to keep the Defense Department apolitical, belief in rebuilding the military's readiness and lethality, and his deep feelings for men and women in uniform – as well as their families. His appearance at a staff member's wedding even during an exceptionally difficult period of his time as Secretary, his gifts and kind words to the children of staff members during official events, and his respect for those on his team all paint a positive portrait of the Secretary.
While contentious due to its high-profile subject matter, the book is compellingly written, praises and criticizes leaders in ways that are reasonable and based on facts and not partisanship, and offers a serious account of what happened within the Pentagon under Secretary Mattis' leadership.
Having read both Call Sign Chaos and Holding the Line, I believe each work is an excellent addition to any defense professional's library. However, I found the candid insights and gravity of Holding the Line to be more unique and resonant than Secretary Mattis' personal history of the last few decades of American military operations.
As Mattis stated in his autobiography, "You must unleash initiative rather than suffocate it."
BZ CDR Snodgass.
LT Daniel Stefanus is a surface warfare officer and currently works for the Chief of Naval Personnel on strategic engagement and personnel system reform. He commissioned through the Duke University NROTC program and will begin studying at Harvard Business School next fall. He is a former president of CIMSEC. These views are presented in a personal capacity.
Featured Image: Defense Secretary James N. Mattis meets with His Excellency Prawit Wongsuwon, Minister of Defence for the Kingdom of Thailand at the Pentagon in Washington, D.C., April 23, 2018. (DoD photo by Tech Sgt. Vernon Young Jr.)