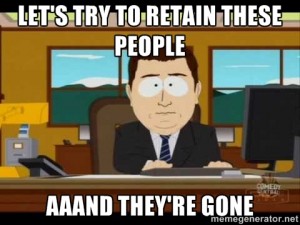 A business can hire-in at every level, shifting employment  for new projects and products. The milieu can be fun and exciting! Too bad! The military HR machine is driven by a more concrete, inflexible requirement: to-fill seats of operators and planners necessary to man the defenses.  The military cannot hire-in at every level, it needs to develop people from start to finish, designing in flexibility for future changes but without so much as to demotivate personnel floating in endless holding patterns.  The needs of the force are precariously balanced with the space to hone the warfighter and the warfighter's own envisioned personal path. In this naturally messy and un-artful system, retention becomes a critical issue.
CDR Guy Snodgrass has decided to attack this problem of retention in a new way… namely, by taking the taking the flexibility and initiative of the private sector and applying them to building his 2014 Navy Retention Study and Survey. Why wait for a new retention study, or petition for new questions from the vetting machine, when you can do a retention study yourself? Bring some friends; build a self-selected group operating on their own dime and time towards a retention-study startup.
Without the fears that weigh against products created by a system to judge itself, the 2014 Navy Retention Study has the potential to break into important territory. In the first day 2,160 page visits have already resulted in 570 completed surveys. USNI, the independent voice of the sea services, started with 15 officers in a chemistry classroom; perhaps these 18 new individuals can create an independent review system that meets with the same success.
The survey itself is detailed – for all ranks – asking community specific questions, even driving towards satisfaction with different community procurement programs and their indicators of future success. This isn't your typical, "do you feel satisfied with your job," surveys; it digs beneath the permafrost. If you find yourself taking another lame Buzzfeed "What Sandwich am I?" quizes before filling out this survey… hit yourself!
If you're reading this and in the US Navy… you should be filling out this survey and standing by for the results. And just in case you didn't catch the hyperlinks before, HERE IS THE SURVEY!
_________________________________________________________________________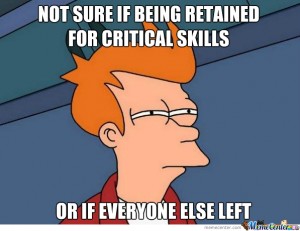 To coincide with this retention push, CIMSEC will be publishing our own little informal study on June 6th , a bit more open ended and less precise. We are looking for active duty and reserve naval personnel (from any country) to write in with a short, 200 or less word summary of a retention issue and potential solution they see in their own community. Please send your thoughts to nextwar@cimsec.org!
Matthew Hipple is a surface warfare officer and graduate of Georgetown's School of Foreign Service. He is Director of the CIMSEC Online Content and hosts of the Sea Control podcast. His opinions may not reflect those of the United States Navy, Department of Defense, or US Government. Did he mention he was host of the Sea Control podcast? You should start listening to that.