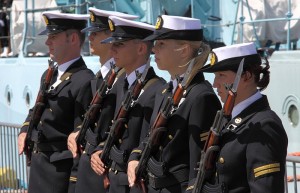 Tomasz Siemoniak, Poland's Minister of Defense, was asked by the Polish web site "All the Essentials" what he considers the key ideas for 2014. This made for a very short list, but there are some interesting details. The main points he raised are:
1. Still the United States! Despite many talking about the decline of American power and influence, Mr. Siemoniak believes this view premature and that Washington will remain a center for setting global security trends. He adds, however: "hopefully without further pivots and resets." To be sure, U.S. presence in Europe remains crucial for Poland.
2. Cyber Defense. Siemoniak's observations that effective cyberattacks can send victims directly to the Stone Age are not without a sense of humor. But that is perhaps the right tool in what he believes necessary-raising awareness among decision makers, the military, the press, and ordinary citizens. The storm caused by Snowden resulted in Sea State 1 in Poland. "Hard compromises between security and privacy are unavoidable."
3. How Many Divisions? The message is that we need to diverge from the old paradigm of troop numbers, equipment, and the talents of commanders in determining the robustness of a state's security. The economy, culture attractiveness, energy resources, and "even people ready to defend on Twitter our arguments in English or Russian" are important ingredients of a country potential.
4. Polish Fangs. This literary expression describes a shift in Poland's security strategy that occurred last June. The elements of conventional deterrence form a basis for the armed forces modernization plan. The concept is a bit fluid and contains some elements of A2/AD, but despite modern acronyms the roots of the strategy can be traced to the classic book of B.H. Liddell Hart, Strategy:
The acquisitive state, inherently unsatisfied, needs to gain victory in order to gain its object – and must therefore court greater risk in the attempt. The conservative state can achieve its object by merely inducing the aggressor to drop his attempt at conquest – by convincing him that "the game is not worth the candle."
2013 was not a bad year for the Polish Armed Forces, but this short list of ideas demonstrates how the concepts of national security and defense evolved and becomes ever broader.
Przemek Krajewski alias Viribus Unitis is a blogger In Poland.  His area of interest is the context, purpose, and structure of navies – and promoting discussion on these subjects in his country.