Recent events have underscored that Air-Sea Battle (ASB) is at best a necessary but insufficient solution to China's military modernization and increasingly assertive diplomatic posture.
Although there's a legitimate debate about whether ASB is too escalatory to be credible against a nuclear-armed adversary in any scenario, even ASB's strongest proponents must concede that it would only be politically viable if the U.S. and China move from a state of tense peace to  open war. That is, unless China presents the U.S. with a "Pearl Harbor" type moment—most likely an invasion of Taiwan or the Senkaku Islands—no U.S. president would be comfortable ordering the military to execute an ASB operation against China.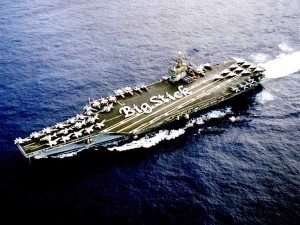 This is problematic in light of China's recent successes in expanding its influence in the East and South China Seas using what James Holmes and Toshi Yoshihara have called "small-stick diplomacy." ASB is wholly inappropriate for countering China's "small-stick diplomacy," which generally involves China using non-Naval assets to gradually expand its influence in maritime waters.
Yet, as I have argued elsewhere, there are compelling reasons to think that China will use these salami tactics and gradualist approach to secure its dominance over the Western Pacific, rather than wager everything on a single battle or war. At the very least, it seems highly unlikely that China will take the latter approach as long as its "small-stick diplomacy" continues to be successful. Thus, until the U.S. and its allies are able to successfully counter China's salami tactics, a scenario in which ASB might be appropriate is unlikely to present itself. 
This is problematic for the United States for a number of reasons. To begin with, the U.S. has a much better track record at deterring or winning general wars than it does with handling lower-level types of aggression. For example, the U.S. easily overthrew the Taliban in Afghanistan and Saddam Hussein in Iraq, but failed to beat the subsequent insurgencies and secure the peace in both countries.
Similarly, during the Cold War the U.S. successfully deterred the Soviet Union from invading Western Europe but proved much less adept at dealing with the insurgencies and terrorist groups it sponsored throughout the world. In fact, vestiges of the Soviet's proxy strategy continue to haunt the United States today in the form of the Castro regime in Cuba and the Kim regime in North Korea. Much like the Soviet Union itself, the U.S. has successfully deterred North Korea from reinvading South Korea but has been unable to prevent its lower-level forms of aggression, including its assassination attempts against South Korean leaders and stealth attacks on ROK naval assets.  
More concretely, simultaneously countering China's "small-stick diplomacy" and anti-access/area denial challenges will be difficult because each seemingly calls for very different kinds of procurements. Specifically, the best way to counter China's "small-stick diplomacy" would be to acquire a large quantity of platforms that would allow the U.S. Navy and Air Force to maintain a robust presence throughout the vast waters in the South and East China Seas that China claims sovereignty over. It is less important that these platforms be the most technology capable ones the military could build since China usually relies on second rate assets to pursue its "small-stick diplomacy." By contrast, overcoming China's A2/AD challenges with ASB does require the U.S. Navy and Air Force to field some highly capable platforms like long-range precision strike missiles, as well as high-end cyber and ISR capabilities.
In theory, the U.S. military could field a numerically large, highly capable force. This in fact would be the best way to deal with both China's "small-stick diplomacy" and A2/AD strategies. In reality, however, America's fiscal constraints preclude this possibility.
Indeed, in explaining how the U.S. military could absorb the defense cuts that have already been authorized by Congress, Defense Secretary Chuck Hagel said the Defense Department "examined two strategic approaches to reducing force structure and modernization that will inform planning for sequester-level cuts.  The basic tradeoff is between capacity – measured in the number of Army brigades, Navy ships, Air Force squadrons, and Marine battalions – and capability – our ability to modernize weapons systems and to maintain our military's technological edge." He went on to explain that "in the first approach, we would trade away size for high-end capability," whereas "the second approach would trade away high-end capability for size."
Thus it seems that the U.S. military cannot maintain a large enough force to counter China's "small-stick diplomacy" at the same time that it modernizes its forces enough to properly execute ASB against China. Finding a way to overcome these limitations will be perhaps the biggest challenge the U.S. military faces in the years ahead.
Zachary Keck is Associate Editor of The Diplomat where he authors "The Pacific Realist" blog. He is also a monthly columnist for The National Interest, and can be found on Twitter @ZacharyKeck.