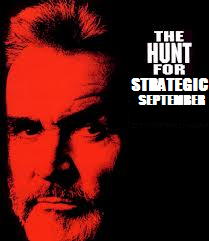 Washington is awash in strategic planning. The Strategic Choices Management Review (SCMR) more or less wrapped up by August, but hearings on Capitol Hill continue through this month. The DoD is also spinning up the teams that will hammer out the latest Quadrennial Defense Review (QDR) for issuance next year. Elsewhere the long-awaited Cooperative Seapower for the 21st Century update (revision? re-write?) is expected shortly (yet its release has been pushed back previously).
Thus, with our penchant for overly dramatic titles, we give you, "The Hunt for Strategic September", to run as a series of posts from 22 September through the end of the month. This is a call for ideas. We want to hear your thoughts on strategic guidance, primarily in the context of the QDR and SCMR, but by no means so narrowly constrained.
For example – What's the point of the QDR, its history, and its relation to other strategic reviews such as the National Security Strategy (NSS) and Defense Strategic Guidance (DSG)? Have past QDRs effected any change? How is this QDR cycle different? Is the cycle broken? Does the U.S. even need a QDR? Has the SCMR altered this calculus? More importantly, what should be in the QDR? What shouldn't be in the QDR? What "sacred cows" can/should be slain in this or other strategic guidance? What about the Seapower 21 update?
Nor need your thinking be limited to U.S. strategic guidance. What lessons can be learned from Australia's White Papers? Britain does a 5-yearly Strategic Defence and Security Review (SDSR), next slated for 2015. Do these and others serve a similar purpose? Would a prospective naval power that doesn't have such a product or process benefit by one? Are there disconnects between the maritime components of the U.S. QDR and the strategic documents of its international commitments (NATO, UN, etc..)?
Please email Matt Hipple at nextwar@cimsec.org if you're interested in participating. While our main focus is on the upcoming development of the QDR, as long as your ideas have some tangential relation to the broader theme of The Hunt for Strategic September, we'd like to hear your thoughts. Thinking outside the box is encouraged.