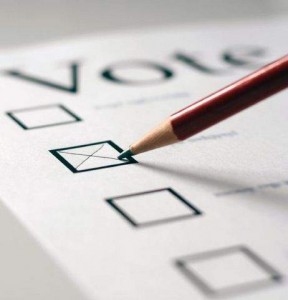 In accordance with our bylaws, CIMSEC is holding its annual elections for its officer positions.  We here at CIMSEC are an all-volunteer force, so we rely on the commitment of our officers to carry out the day-to-day functions of the organization.  From our members (join now for free) we received the following nominations for our officer positions for a 1-year term along with their statements of candidacy.  Write-in candidates are also welcome on the voting ballot.
PRESIDENT
Daniel Stefanus:
Hello, my name is LT Daniel Stefanus, USN. I've been an Associate Editor for the last three years, working closely with Dmitry. I believe CIMSEC's role in delivering rapid, unvarnished feedback and analysis on the maritime domain is critical. As President, my goals would all be in support of that mission.
Goal 1 – expand the breadth and depth of our online content by leveraging junior officer networks, senior leaders' insights, and beltway analysts to make CIMSEC an essential tool for maritime leaders and policymakers.

Goal 2 – craft a wider array of regional, in-person offerings to connect our readers and writers, forming the intellectual, data-driven network the sea services need as they enter an era of renewed Great Power competition.
I'm a Surface Warfare Officer who is moving to Arlington to work for the Chief of Naval Personnel's Strategic Action Group. Previously, I served onboard USS Anchorage (LPD 23) and Amphibious Squadron Six with deployments to Fifth, Sixth, and Seventh Fleets. Highlights from those include: driving ISIS out of Sirte, Libya; PLA-N interactions; operations around Yemen; and BALTOPs 2016.
I graduated from Duke (NROTC) with degrees in Economics and International Affairs, and I'm currently working on a Master's degree with the US Naval War College. I won the USNI 2016 General Essay Contest and placed in the 2017 General, USMC, Mine, and CNO's Naval History Essay Contests. Additionally, I've worked on naval innovation, design thinking, and human performance with the 21st Century Sailor Office and Toughness TANG.
VICE-PRESIDENT
Jimmy Drennan:
I am a Surface Warfare Officer currently assigned as a Maritime Operations Planner at United States Central Command.  I have a BS in Industrial and Systems Engineering from Georgia Institute of Technology, and an MS in Systems Engineering from Naval Postgraduate School.  My tours at sea include Navigator aboard USS ANZIO (CG 68), and Operations Officer aboard USS GETTYSBURG (CG 64).  I deployed twice supporting Operations IRAQI and ENDURING FREEDOM.  At sea, I specialized in maritime fleet and expeditionary air defense.  I also served in the Chief of Naval Operations Strategic Studies Group.
I want to run for CIMSEC leadership because I believe very strongly in the value CIMSEC brings to the defense and international maritime communities.  I want to be a part of ensuring CIMSEC continues to fulfill its mission.  I continue to enjoy writing for CIMSEC and other maritime and defense professional publications.  If elected, I would like to see CIMSEC continue to grow its reputation as a center of expertise both within international naval and commercial maritime communities.
TREASURER
Josh Heivly (running for re-election):
Bio:  Active duty Navy Supply Corps officer with numerous operational and shore tours, currently assigned to NATO's Combined Joint Operations from the Sea Center of Excellence in Norfolk VA.  MBA from Michigan, MA from Fletcher.
Why run?  Would like to continue supporting CIMSEC's excellent work and uniquely accessible platform for emerging voices in the maritime security arena.
What to accomplish?  Would like to streamline CIMSEC's financials as much as possible and work to ensure that all requirements are quickly and smoothly addressed.
SECRETARY
Frank Goertner:
Frank Goertner is a strategic planner and consultant for national security policy, foreign affairs, and leader development.  He recently retired as a U.S. Navy Commander after 21 years of commissioned service as a Naval Aviator, Foreign Area Officer, and Personnel Chief.  His last uniformed assignment was on the Navy Staff, where he was lead author of a 2017 report on Future Fleet Design and Architecture for 2045.
Frank's professional passion is to help great enterprises prepare for the immense challenges and opportunities emerging in a world of digitized competition.  To do that well takes a personal commitment to daily research, dialogue, and collaboration.  And it takes platforms for that process to be fostered and sustained – ideally open, free, user-friendly platforms like CIMSEC supported by volunteer entrepreneurs pitching in where and when they can.
Having written a couple pieces for CIMSEC this past year, Frank is looking for new ways to pitch-in himself.  If elected Secretary, he will work to enhance the Center's online interface and expand the Center's engagement with other organizations working to promote trans-disciplinary dialogue on defense strategy and reforms.
A proud native of the Old Line State, Frank is a graduate of the U.S. Naval Academy.  He holds an MA in International Relations and an MBA, both from University of Maryland.  He is fluent in Italian and works really hard to sustain proficiency in Russian.
DIRECTOR OF ONLINE CONTENT
Dmitry Filipoff (running for re-election):
I have volunteered as CIMSEC's Director of Online Content since 2015 and am hoping to continue in this role. Through this time I sought to grow the audience and move the conversation forward on various topics by improving our editorial standards, launching regular topic weeks to focus attention on issues of importance, and working with contributors from all over the world to produce outstanding content. CIMSEC's great strength is its dedicated readers and they deserve a straightforward editorial process for when they choose to contribute and high-quality content that respectfully informs, debates, and challenges the conversation. We should maintain our current and consistent formula of regular article and podcast publishing. We should also seek new ways to leverage the expertise of the community through various initiatives and partnerships such as joint topic weeks and public collaboration opportunities. By acting as a shared and reliable platform for those interested in furthering the conversation, CIMSEC can stand to make powerful contributions to understandings on maritime security and international affairs.
DIRECTOR OF MEMBERSHIP
Michael Madrid (running for re-election):
I graduated from the US Naval Academy in 2014 and joined the Surface Warfare community, serving my first tour on USS MUSTIN (DDG 89) homeported in Yokosuka, Japan. After two years across the Western Pacific, I selected for another tour in the Forward Deployed Naval Forces (FDNF), with USS DONALD COOK (DDG 75) homeported in Rota, Spain. I am currently finishing two years onboard DONALD COOK as the Fire Control Officer, in charge of the Aegis Combat System and the Air Defense/Ballistic Missile Defense warfare programs. By 2019, my wife and I will move to DC and I will start shore duty in the office of the Chief of Naval Personnel Support in Arlington, VA.
Since joining CIMSEC as a Midshipman in 2013, the community and its work have been a significant influence on my professional knowledge and thinking. When I started as Director of Membership in 2017, I had many goals for community growth and improving the member experience. While we have added over 100 members, refined the "Welcome Aboard" process for new members, and rolled out the first comprehensive membership survey to deliver meaningful data to the Board of Directors—there is much more to do, and I have the expertise and vision to deliver! With another year in this position, I can help us take CIMSEC to the next level, and CIMSEC will continue to mature in its mission as a global leader for thinking, writing, and collaborating on the pressing maritime security issues of our time.
DIRECTOR OF OUTREACH
Andrew Walker (running for re-election):
My name is Andrew Walker, and I'm running to retain my position as the Director of Outreach for the Center for International Maritime Security. Originally from North Carolina, I moved to Chicago to study Political Science at Northwestern University, whereupon graduating I began working with Amnesty International USA. Recently though I've been accepted to OCS, and am excited to begin my life as a newly commissioned SWO late this fall.
With regards to CIMSEC specifically, I've been involved for nearly two years, first as our Social Media Director and most recently as our Director of Outreach. During that time CIMSEC's social media presence has more than doubled, allowing us to reach more and more people through our shared passion for all things related to maritime security. I plan to continue that success into 2018-2019, as well as expand our outreach into the real world via speakerships, conferences, and conventions.
In an ever-increasingly complex world I think providing a space for individuals with a passion for maritime security to convene and share ideas is vital, and I'm excited to be a part of that mission with this amazing organization.
Elections
Voting on nominees will be conducted from 11-15 June by general members of CIMSEC.