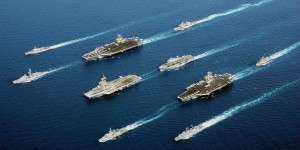 Join our DC chapter for its July meet-up with food, drinks, and conversation at Fuel Pizza (Farragut Square Location). At 1800 we will be joined by LCDR Claude Berube, USNR, to discuss his recent War on the Rocks article and discuss the arguments surrounding the "Global Network of Navies" concept.
As Claude is the author of several books on maritime security you are also encouraged to bring your Kindle for autographs:
Time: Wednesday, 30 July 1730-2030 (Discussion with Claude will begin at 1800)
Place: Fuel Pizza (Ask up front if you can't find us)
1606 K St NW, Washington DC
Farragut North / Farragut West metro stops
Additional suggested reading material:
- Admiral Jonathan Greenert and Rear Admiral James Foggo: "Forging a Global Network of Navies"
- CDR Salamander: "When Your Buzzword Becomes a Punchline"
- Robert Farley: "Managing the United States' Global Naval Partnerships"
All are welcome – RSVPs not required, but appreciated: director@cimsec.org
August Meet-up: August 20th with Nilanthi Samaranayake, CNA, location TBD.